Looking for landscaping in Fourways?
We have designed and installed many gardens in Fourways over the years (see a few examples of these projects shown on this page). This includes Dainfern, Helderfontein Estate, Fourways Gardens, Broadacres, Beverley, Cedar Lakes, Douglasdale, Chartwell, Farmall and Steyn City. We would love the opportunity to work with you to design your dream garden!
Call or send us a message on 082 805 0910 for your landscaping requirements in Fourways.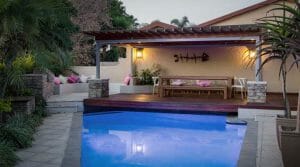 Landscapers In Fourways Johannesburg
Fourways Johannesburg is a unique part of South Africa. It offers many opportunities to experience the vibrant culture and beautiful scenery of this metropolitan city. Landscaping in Fourways Johannesburg is an important aspect of maintaining its beauty and charm for both locals and tourists alike. This article will explore the various services offered by landscapers in Fourways Johannesburg. We outline their skillset, qualifications, and how they are contributing to the community.
Landscaping involves creating aesthetically pleasing outdoor settings through creative design. This includes planting trees, shrubs, flowers and other plants as well as building structures such as pathways, patios or decks. It requires creativity along with knowledge of plant types, soil conditions and drainage systems. A qualified landscaper must possess good communication skills. They can can therefore work with clients effectively while taking into account any environmental restrictions present in the area.
In Fourways Johannesburg there are qualified landscapers who provide valuable services to residents while also helping maintain the aesthetics of the region. These professionals have earned certifications from accredited institutions within South Africa and abroad. This demonstrates their commitment to excellence when it comes to providing quality service and design. Furthermore, these experts are mindful of preserving local habitats while still creating picturesque settings tailored specifically for their clientele's needs.
Qualified Professionals
The search for reliable landscapers in Fourways Johannesburg can be a daunting task. There are qualified professionals available to assist with any project. It is important to consider the level of experience and qualifications when selecting a prospective contractor. Reputable companies should have: certifications or licenses acquired from local authorities; evidence of insurance coverage specific to the type of work being performed.
The selection process should also include an evaluation of customer reviews and feedback related to previous projects completed by the company. This will provide insight into the quality of service provided and how satisfied past clients were with the finished product. In addition, it is important to ask questions. For example, availability, cost estimates, timeline expectations, payment arrangements and warranty information. Then make a final decision on who will perform the job. Taking these steps can ensure that all parties involved understand exactly what they are signing up for. Then begin your landscaping project in Fourways Johannesburg.
Services Offered
When looking for a landscaping company in Fourways Johannesburg, it is important to identify the range of services offered. Qualified professionals should be able to provide both hardscaping and softscaping solutions tailored to individual needs. Hardscaping involves construction projects such as:
building decks and patios
installing walkways and driveways
erecting retaining walls
setting up outdoor kitchens or fireplaces
creating water features like ponds or fountains.
Softscaping typically includes lawn care tasks such as:
planting lawn, shrubs and trees
mulching beds
providing fertilizer treatments
In addition to these services, some companies may also offer landscape design assistance which can help clients achieve their desired aesthetic goals. It is important to stay within budget as far as possible. To ensure that all expectations are met in terms of workmanship standards, quality materials used and design quality. It is essential to select a reputable landscaper with an established record of delivering superior results within your budget.
Benefits Of Landscaping
In addition to increasing a property's visual appeal, landscaping also offers numerous practical benefits. Hardscapes can help protect houses from strong winds and provide privacy or better drainage during heavy rains. Meanwhile, softscapes provide much-needed shade that helps keep homes cool in the summer months. They reduce sound levels from busy streets or nearby structures. Softscapes promote healthier air quality by filtering pollutants through their foliage.
Plants are natural temperature regulators as well. Their presence can help minimize fluctuations between day and night temperatures. This is especially important for energy savings in areas with extreme weather changes throughout the year. Furthermore, landscaping projects can significantly increase a home's value. When done correctly this makes it an excellent investment towards improving any outdoor space.
Cost Estimates
When planning a landscaping project, it's important to have an estimate of the cost involved. The total cost will depend on the size and complexity of the job, as well as the materials used. Generally speaking, hardscapes such as decks or patios tend to be more expensive than softscapes like plants and grass. This is due to their material costs and labor-intensive installation process. Professional landscapers typically charge per project and not per square meter for projects. Some projects require specialized tools and expertise. For example, installing a 500m2 lawn next door the their offices cannot cost the same as installing 500m2 of lawn that is 100km away.
The cost supply and install one plant is considerably more than to plant 500 plants (in terms of the the cost per plant) when transport and labor are factored in. The distance to site and scope of work will ultimately determine costs. Additionally, there are other costs associated with landscaping jobs such as new soil or filling if applicable to your project in your area and any necessary equipment rentals that should also be factored into the budget.
DIY options exist for those who prefer to do work themselves or don't want to spend too much money upfront. Smaller projects including planting shrubs, trees or flowers which are generally less costly but still produce results when done correctly. In either case, research is key when budgeting. Make sure you get exactly what you need at the best possible price point for your project.
How To Choose A Landscaper
When deciding on a landscaper for your project, there are several factors to consider. The first step is to determine the scope of what you'd like accomplished. Create a budget that meets your needs. Once this has been established, it's time to look for qualified contractors in your area who specialize in the type of work you need done.
One way to source potential candidates is by asking family or friends if they have had any good experiences with local professionals. Many times, word-of-mouth referrals can be invaluable when vetting contractors. Get firsthand accounts from people who have worked with them before. You should also check online reviews and ratings which can provide useful insight into how reliable and experienced each candidate is.
Once you've narrowed down your list of prospective landscapers, make sure to ask questions about their past experience and qualifications. Know exactly what services they offer and whether they'll meet the requirements of your job. It's important to evaluate all bids carefully and choose the one that best fits both your vision and budget. Stay within industry standards for quality materials and labor costs.
Frequently Asked Questions
What Qualifications Do Landscapers In Fourways Johannesburg Have?
Qualifications are an important factor when assessing the abilities of landscapers. This is especially true in Johannesburg, where competition among professionals is high. To be successful, it is essential that a landscaper possess specific qualifications and experience to stand out from other applicants.
In terms of qualifications, there are several areas which must be considered by prospective clients. Firstly, most positions require at least some formal education, experience or training related to landscaping techniques. This typically entails knowledge on design principles, plant selection, protection methods and soil nutrition management. Additionally, more experienced roles often necessitate further higher-level qualifications such as landscape architecture degrees or professional certificates from recognised institutions. Furthermore, those looking for employment may find themselves needing additional certifications specialized to certain aspects of the field depending on the employer's requirements. Finally, soft skills such as organisational ability and interpersonal communication are also sought after by many businesses seeking top talent in their industry.
Overall then, potential landscapers should consider both hard and soft skill sets when pursuing opportunities in Fourways Johannesburg area. In addition to technical expertise gained through academic qualification and practical experience through internships/work placements etc., they should strive to develop strong personal qualities which will set them apart from other candidates in an increasingly competitive market.
Do Landscapers In Fourways Johannesburg Offer Design Services?
When considering the question, 'Do landscapers in Fourways Johannesburg offer design services?'. It is beneficial to understand both what constitutes landscape design and whether landscaping professionals are qualified to provide such services. Landscape design involves an understanding of plants, soils and materials. A knowledge of construction techniques for creating outdoor spaces contributes to the aesthetic appearance of landscapes. Therefore, it is important that any professional providing these services has adequate qualifications to do so.
In order to assess if landscapers in Fourways Johannesburg offer design services, it is necessary to investigate their individual qualifications. This will enable potential customers to gauge the level of expertise they may expect from each provider. Such qualifications could include a degree or diploma related to horticulture, arboriculture or other field relevant to designing gardens and outdoor living areas. Additionally, experience in practical application of this education should be assessed. Skills gained through hands-on work are important to consider when selecting a landscaper or designer.
What Are The Long-Term Benefits Of Landscaping?
Landscaping is a popular practice amongst homeowners and businesses. It can bring about numerous long-term benefits. This article will explore what these advantages are. It examines the positive impacts that landscaping can have on both residential and commercial properties.
Residential
On a residential property, landscaping helps to boost home value and create an aesthetically pleasing environment. It also allows for the homeowner to express their own personal style through plant selection or other features. For example, retaining walls, garden lighting and outdoor furniture. Additionally, properly maintained landscapes help reduce noise pollution in urban areas. They absorb sound waves from cars or traffic. Landscapes also provide much needed shade, which reduces energy costs during extreme temperatures throughout the year. Furthermore, they act as natural air filters that remove dust particles and pollutants from entering our homes. At the same time they oxygenate the surrounding area with fresh air.
Businesses
When applied to businesses, landscaping offers many of the same benefits as discussed earlier. It adds an extra layer of appeal due to its ability to attract customers with attractive curb appeal and pleasant surroundings for employees' leisure time if applicable. Aside from those obvious attractions though. Business owners may find that well-maintained exterior spaces increase customer satisfaction and loyalty due to improved aesthetics of their premises.
Moreover, landscape design has been proven to promote healthier lifestyles among staff members when green spaces are available on site for them to relax after work hours or enjoy lunchtime outdoors away from their desks. Overall then, there are several undeniable advantages that result from investing in high quality landscaping services for either a residential or commercial space. Ensuring greater returns in terms of health, comfort and financial gain over time.
How Much Does Landscaping In Fourways Johannesburg Typically Cost?
Landscaping is an important part of home and business maintenance. It improves the aesthetic appearance, and also adds value to a property over time. The cost of landscaping in different areas may vary significantly. It depends on several factors such as local labor costs, materials used, size of the project, complexity, etc. When it comes to Fourways Johannesburg specifically, how much does landscaping typically cost?
Landscaping projects involve many different elements from hardscapes (i.e., patios) to softscapes (i.e., trees and plants). Therefore, the cost depends greatly upon the scope of work being done and specific needs for each individual situation. For example, if there are existing structures or features that need additional work before any new additions are made then this would likely increase the total cost.
Additionally, larger properties often require more material than smaller ones so they will be priced accordingly. Hardscape components such as walls and pathways tend to have higher price tags due to their unique requirements. Softscape items like shrubs and flowers usually come with more affordable options.
In order to get an accurate estimate of what landscaping in Fourways Johannesburg might cost one should first have a landscape design in place or contact us for a free assessment and suggested budget range. This way potential customers can evaluate which option offers them the best value for money based on their own budget constraints. Preferences as far as quality materials or services provided by each contractor should be taken into consideration. Furthermore, some contractors may not be able to offer everything under one roof and will need to sub-contract. This leads to increased costs and possibly lower quality output.
What Factors Should I Consider When Choosing A Landscaper In Fourways Johannesburg?
When it comes to selecting a landscaper, there are several important factors that should be taken into consideration. It is essential to find an experienced and knowledgeable professional. they can provide quality services at an agreed budget. Additionally, the customer should look for someone with a good reputation in the industry, as well as positive reviews from previous clients.
The type of project being undertaken will also influence the choice of contractor. Different landscapers specialize in different types of work such as softscaping or hardscaping. It is important to inquire about their specific expertise when making the decision. Furthermore, the customer should ensure that they feel comfortable working with whomever they choose. This includes considering any additional charges, availability and communication style. Ultimately, finding a reliable landscaper requires time and research. However, ensuring these key elements are met can help guarantee a successful outcome for any outdoor project.
Conclusion
The decision to hire a landscaper in Fourways Johannesburg should not be taken lightly. It is important for potential clients to research the qualifications of any landscaping company they are considering. Make sure that their design services meet the desired specifications. Furthermore, taking into account long-term benefits such as improved aesthetics or increased property value can help guide one's choice when selecting a landscaping provider. Ultimately, it is also essential to determine how much the project will cost and if budget considerations are necessary. All these factors must be weighed carefully before making an informed decision about which landscaper in Fourways Johannesburg best suits one's needs.
When searching for the right landscape professional, prospective customers must remember that quality workmanship often comes with a greater financial investment than cheaper alternatives may offer. Asking various companies to provide quotes on projects makes it easier to compare prices from multiple providers. unfortunately it does not mean that each service provider will be providing the same quality product or service. Additionally, seeking out referrals from friends or family who have availed of similar services can provide valuable insight into what kind of results each company produces.
Ultimately, careful consideration of all available options and thorough research are key components in finding the perfect fit for any landscaping job in Fourways Johannesburg. Taking the time to review credentials, designs offered, associated costs and other related factors ensures that clients get exactly what they pay for – excellent service at an affordable price!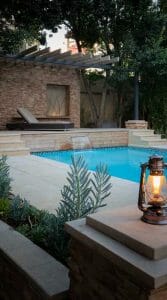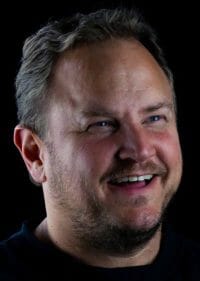 Looking for a professional landscaper in Fourways?
We can design and install your dream garden, including fire pits, entertainment areas, bomas and water features. You have come to the right place!
No middleman! Contact our Managing Director directly on the following
Are you looking for a stylish designer fire pit to enhance the landscaping of your outdoor space? Visit our FireBlades website to see our range of designer fire pits.