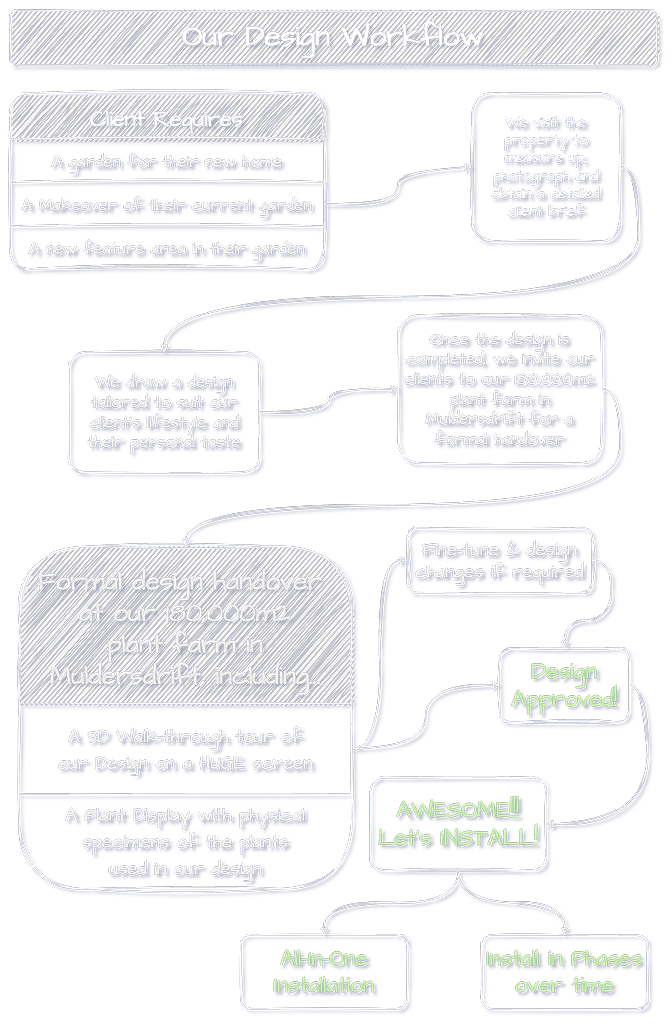 We pride ourselves on our professional approach and high level of service. Our turnkey service includes garden design, landscape installation, irrigation, construction and water features.
Garden design and landscaping services
Looking for a landscaper to design and build your dream garden? Your garden is the first view that any visitor will see. It is the place that you will spend time relaxing and enjoying your leisure time and entertaining. In other words, a garden is an incredibly important part of any home. It adds value and enjoyment to your home. Why not have your own paradise at home?
Each person has their own idea of what makes a great garden. This is why we take our clients' input so seriously. We therefore use our creativity and knowledge to design and implement gardens that suit the requirements, taste and lifestyle of our clients.
Careful attention to detail and a high level of installation supervision is key. Consequently, every project undertaken is performed to the highest standard. We aim to exceed the expectations of our clients every step of the way.
You are ONLY THREE STEPS away from your DREAM GARDEN!
Step #1: Your wish list, our creativity – Getting things started
We visit* with you to see your current garden. During this visit, we:
obtain your wish list, including any hardscape elements for example, walkways, patios, water features, fire pits, pools etc.
find out your preferences in terms of planting style, for example, formal, informal, indigenous, contemporary, country, water-wise, tropical etc.
take critical site measurements (not everything is always shown on a site plan)
photograph the current garden
*For national and international clients, additional costs and process apply – please contact us for more information in this regard.
Step #2: The Masterplan – The design handover
Once your design is complete, we invite you to our 180,000m2 plant farm in Muldersdrift for a formal handover.
During the design handover, we:
guide you through a 3D walk-thru of any constructed elements, for example, fire pits areas, water features etc.. Our large screen projector makes this feel very immersive
explain and review different aspects and features of your design
discuss and view options for hardscape finishes, for instance flooring, decking, cladding and other finishes
view a physical display of the plants used in your garden design. After that, you will have a good idea of the look and feel we are creating in your design
present you with a quotation for the garden installation. Our garden installations are be quoted as a single install or as a phased installation over time
At the design handover, you have the opportunity to make any fine-tuning adjustments to your design. Every design is a unique landscape design. Therefore, we start with a blank screen and base the design on the specific requirements of each client.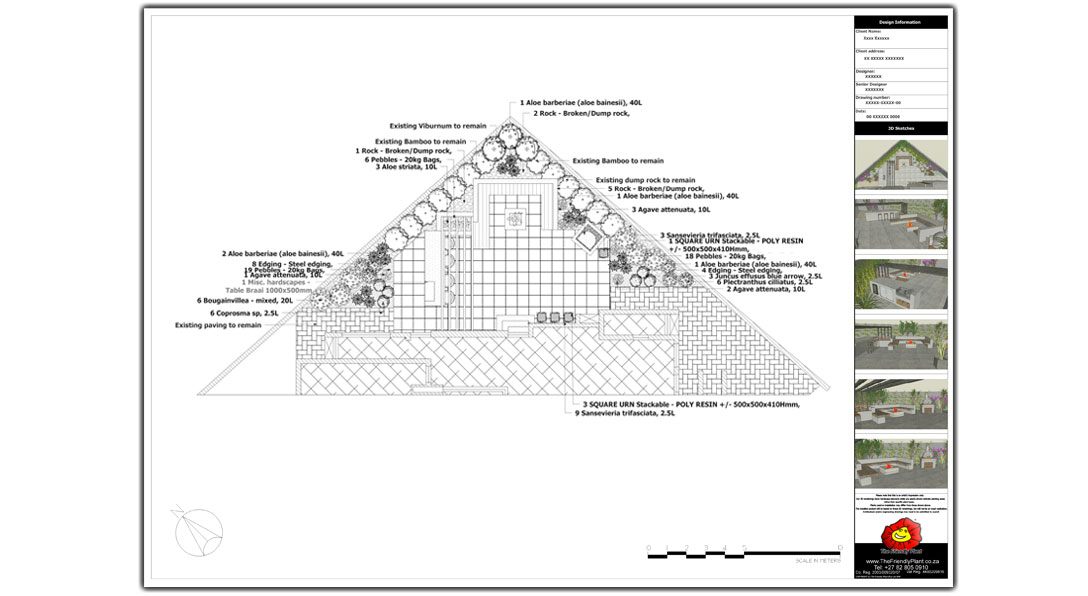 The above slider shows an example of one of our designs as provided to our client (in colour on the left). It also shows the underlying work that we do to properly quantify the elements of our installation (labels shown on the right)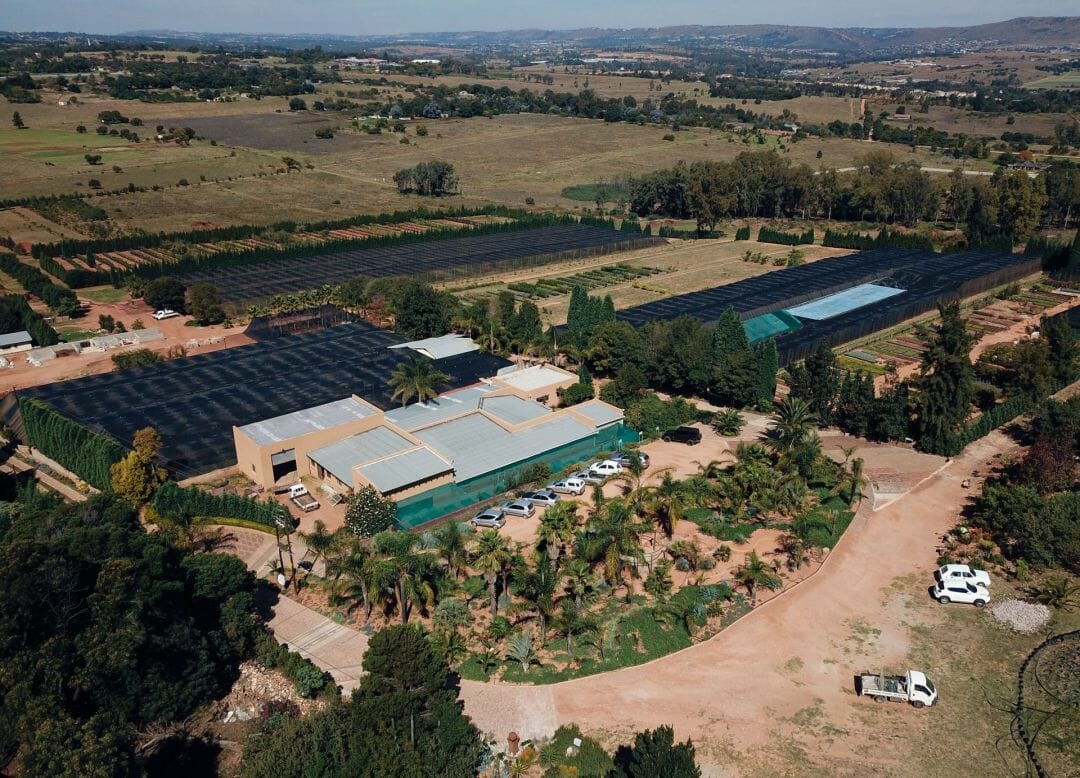 &nbsp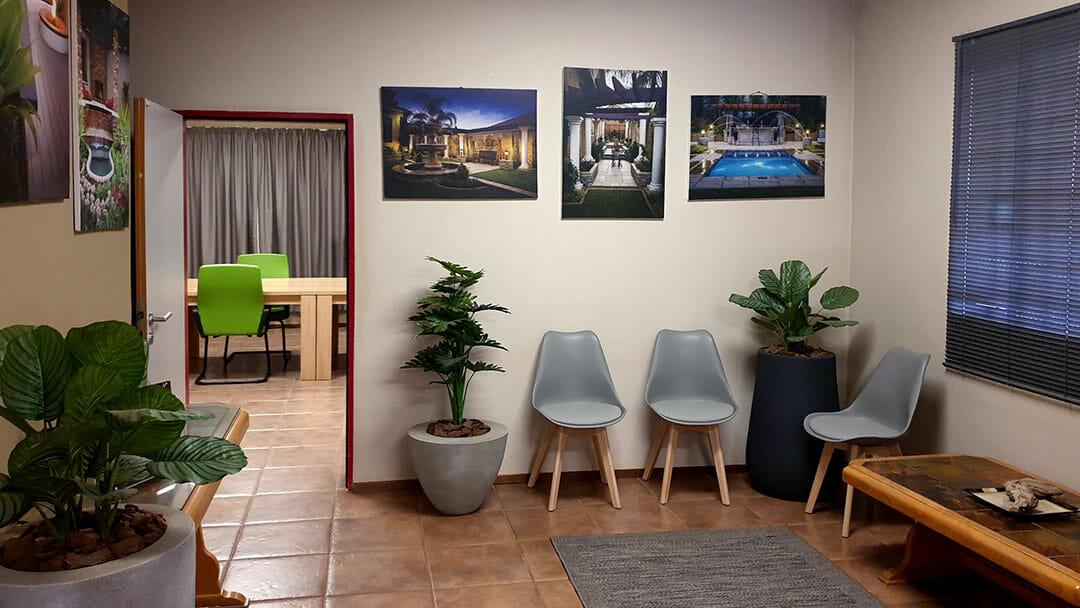 &nbsp
Step #3: Let's do it! – Installing your project
We can to install your garden all at once or in separate it into phases to install over a few months or even years. In other words, there is no need to compromise on your garden if budget is a factor, you just need to take more time for the full installation to be completed.
Our installations are monitored on a daily basis. Therefore, we receive daily input from our teams and provide them with guidance and feedback. Quality control and progress are monitored for each project on a daily basis.
Upon completion of your project, we have final quality control where we afford you the opportunity to comment on our service and installation. We confirm that there are no outstanding items or outstanding problems. We review any maintenance that may be required in time to come.
Above all, supervision and quality controls result in the beautiful gardens that we are known for. For this reason, our clients choose us as their preferred turnkey garden landscaping solution.
LANDSCAPING BY AN INTERNATIONALLY-RECOGNISED, AWARD-WINNING LANDSCAPE DESIGN & INSTALLATION COMPANY
Whether you are looking for a garden design, fire pit, boma or a landscaper to install your garden, you have come to the right place!