Looking for landscaping in Sandton?
We have designed and installed many gardens in Sandton over the years (see a few examples of these projects shown on this page) and we would love the opportunity to work with you to design your dream garden!
Call or send us a message on 082 805 0910 for your landscaping requirements in Sandton.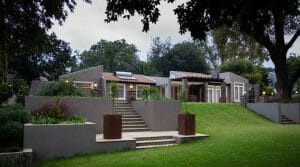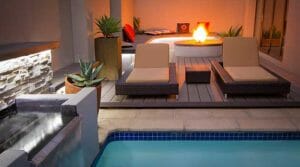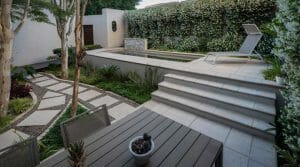 Landscaping Services Sandton
Landscaping services in Sandton, South Africa are a popular choice for all kinds of outdoor projects. This article will provide an overview of the landscaping services available and what to expect from them. It will also discuss how to find reliable contractors. Contractors who can help create beautiful landscapes within budget constraints. Finally, it will look at some of the advantages that come with hiring professional landscapers in Sandton.
Sandton is one of the most affluent cities in South Africa and is known for its world-class amenities, upscale shopping centers, luxurious hotels, and stunning gardens. Homeowners looking to upgrade their outdoor space often turn to local professional landscaping companies which offer a wide range of services. Such services may include lawn care, planting, irrigation systems installation and maintenance, hardscape design and construction, lighting installation and repair, tree pruning and removal services among other specialized jobs.
The right landscape contractor should be experienced in creating unique designs tailored to individual needs while working within reasonable budgets. They should also have knowledge about different plants suitable for specific soil types or climate conditions as well as pest control methods used by professionals. Hiring these experts saves time on planning and executing DIY projects while ensuring they are done correctly using quality materials. Ultimately this results in attractive landscapes that last longer than those created by amateur gardeners or do-it-yourselfers.
Definition Of Landscaping Services
Landscaping is the art of designing, planning and constructing outdoor spaces. It involves a range of activities including softscapes such as planting trees and shrubs. Installing hardscapes such as patios and pathways, building retaining walls, adding water features and creating garden beds. Landscaping services are provided by professionals who have expertise in this field.
Sandton landscape services generally involve the installation of landscaping elements on residential or commercial properties. This may include lawns, flowerbeds, ponds, walkways, driveways and other structures to create an attractive environment that meets the client's needs. Professional landscapers also take into account environmental factors when designing these projects so they can be sustainable for many years to come. They often use advanced techniques such as xeriscaping. Xeriscaping reduces the need for irrigation in arid environments. This ensures their designs are both aesthetically pleasing and environmentally friendly.
Benefits Of Hiring A Professional Landscaper in Sandton
Professional landscaping services can bring many benefits to a property. By hiring an experienced and knowledgeable contractor, clients can enjoy a variety of advantages over attempting to DIY their project. Firstly, professionals will have the right tools and skills needed to complete the job correctly. This means that the task is completed safely and efficiently. Saving time and money in the long run. Additionally, they are likely to be familiar with local bylaws or regulations in regards to building requirements. Something which could cause unexpected delays if not taken into consideration up front.
Moreover, professional landscape designers may also provide creative input on how best to utilize available space for maximum effect. With years of experience working on various projects, these contractors have expertise. They are able to use their expertise and knowledge of plants and other materials when creating attractive outdoor spaces for homeowners or businesses alike. Furthermore, as mentioned before, they often employ techniques like xeriscaping which helps promote sustainability while still providing aesthetically pleasing results.
Popular Landscaping Projects In Sandton
The city of Sandton is an affluent and popular suburb in South Africa, offering a number of landscaping opportunities for homeowners and businesses alike. Many local companies provide professional services to design, build and maintain outdoor spaces that are both aesthetically pleasing and functional. Popular projects include: installing fire pits, water features such as ponds or fountains; building retaining walls; creating pathways and patios with natural stones; planting trees, shrubs and flowers; constructing decks or pergolas; setting up lighting fixtures; replacing fencing or decking materials; and more.
Besides these common tasks, landscape designers may also suggest additional improvements like adding irrigation systems to keep gardens looking healthy all year round. Xeriscaping to reduce water usage while still achieving attractive results, as well as using native plants which require less maintenance than some exotic counterparts. These professionals can also help create outdoor living areas complete with seating arrangements, fire pits or barbeque grills for entertaining guests outdoors during the warmer months. With the right contractor on board, property owners can ensure they get the best possible outcomes from their landscaping project in Sandton.
Cost And Time Estimates For Landscaping Services
Planning a landscaping project in Sandton? Consider the cost and timeframe associated with the various services offered. Generally speaking, most projects involve some combination of designing, constructing and maintaining outdoor spaces. Depending on the scope and complexity of these tasks, estimated costs can range anywhere from tens to hundreds of thousands depending on the size of the area. Timeframes also vary greatly depending on individual projects but generally take between 4-12 weeks for completion.
To ensure that their landscaping ideas are realized within budget and time constraints, property owners should seek out reliable contractors who have experience working in this field. Before making any decisions regarding service providers, it is beneficial to get detailed quotes which provide a list of materials and products for different elements such as plants or planter pots.
Additionally, clients should inquire about:
The contractor's qualifications including any relevant certifications or track record;
The number of years they have been providing landscape design services;
Any local references or portfolio pieces that showcase previous work;
Whether they offer a warranty period following installation or maintenance activities. With all this information at hand, property owners can make informed decisions when selecting suitable professionals for their landscaping needs in Sandton.
Tips For Choosing A Professional Landscaping Service
In order to ensure the successful completion of a landscaping project in Sandton, it is wise for property owners to select experienced professionals who can provide quality services at competitive prices. When making this decision, there are several factors that should be taken into consideration.
First and foremost, prospective clients should carefully evaluate the portfolio of any potential contractor they may be considering hiring. This will allow them to gain an insight into the type of work they do. Also whether or not their style meets the requirements of the client's desired outcome. It is also beneficial to ask for references from past customers. Assess how satisfied those customers were with the service provided by the company. Furthermore, researching online reviews and ratings can give further information on a particular contractor's reputation within their industry.
When deciding which professional to hire, it is important to inquire about any additional fees associated with landscape design services as well as warranties offered after installation or maintenance activities have been completed. Additionally, clients should check if contractors carry liability insurance in case anything goes wrong during the course of their work. Taking all these issues into account before signing a contract helps guarantee that future projects run smoothly without unexpected costs or delays due to inadequate planning beforehand.
Frequently Asked Questions
What Is The Best Time To Landscape A Property?
When it comes to landscaping a property, the best time of year will depend on the climate that one is living in. While some climates may be more favourable for certain types of plants and activities than others, there are unique considerations that should be taken no matter where you live. In terms of aesthetics, many people prefer to landscape their properties during spring or summer because these times tend to offer optimal growing conditions for flowers and other plants. Additionally, warmer months also provide an opportunity for outdoor activities such as barbecues and parties.
On the other hand, autumn can present its own benefits when it comes to landscaping a property. This season has milder temperatures that allow for hardier plants with longer lifespans, making them ideal choices if one desires continuity from season-to-season. Furthermore, autumn brings about ample amounts of falling leaves which can easily be converted into mulch. Perfect for protecting roots during winter weather whilst adding nutrients back into soil. Allowing one's garden to benefit even through colder periods where growth may not otherwise occur naturally.
It is important to take note of each particular region's individual climate when choosing the right time of year for landscaping a property. This way one can ensure they select the most suitable option according to both aesthetic preferences and practical needs. Sandton is suitable for planting and installing gardens all year round.
Are There Any Additional Fees Associated With Landscaping Services?
When considering landscaping services, one of the most important questions to ask is whether there are any additional fees associated with the service. Depending on the type and complexity of work being done, an individual or business may be subject to a variety of extra charges that can increase the overall cost significantly. As such, it is important to understand what these costs might include before committing to any particular service provider.
In general, some common fees related to landscaping services include design fees, labor costs for digging and planting; material purchase costs for plants, soil, mulch, gravel, sand and other elements; equipment rental charges for lawn mowers and wheelbarrows; disposal expenses for yard waste removal; delivery fees for soil, rocks or other materials delivered from offsite locations; and permit fees if required by local ordinances. In addition, many providers also offer packages which bundle several services together at a discounted rate. It is crucial to consider all potential costs when selecting a landscape contractor in order to avoid unexpected surprises later on.
Landscaping is a creating pursuit. Ensure that your landscaper has previous work that resonates with you. If you like what they did in the past, you should like what they do for you.
Obtain a written quote detailing everything necessary for completion of the job. Also include estimated additional rates for optional components. Consumers can make informed decisions based on their budget constraints. Understanding both the upfront and hidden fee structures involved in hiring landscaping professionals provides individuals with peace of mind when investing in exterior renovations or improvements.
What Type Of Maintenance Is Required To Keep The Landscaping Looking Its Best?
Maintaining a landscaped area can be an important factor in the overall look and feel of any property. Proper maintenance should ensure that the plants, trees and grass stay healthy, lush and attractive. Depending on local climate conditions, certain tasks may need to take place more often than others in order for the landscape to remain vibrant throughout the year.
Regularly scheduled activities such as mowing, edging and pruning are necessary for creating a neat appearance. It is also important to keep up with weeding around flower beds or other areas where vegetation has been planted. Fertilizer should be applied regularly to help add nutrients back into the soil; this will encourage healthy growth and discourage weeds from taking over. To provide adequate drainage away from foundations and protect against erosion, mulch should be added periodically to all planting beds. In addition, water features must be monitored closely so they may function properly while looking aesthetically pleasing at all times.
By following these steps in caring for your lawnscape, you can maintain its beauty long-term. You avoid costly repairs down the road due to neglect or improper care. Furthermore, it is recommended that you consult a professional when considering new additions or major changes to your outdoor spaces. Doing so can help ensure optimal results without having to worry about unforeseen problems arising later on.
Are There Any Environmental Regulations To Consider When Landscaping?
When landscaping in any environment, it is important to consider environmental regulations. This includes both national and local legislation that governs land use and development. These regulations may vary depending on the location, but can include zoning laws, wildlife protection, pollution control measures, and more.
Failure to comply with these regulations could result in penalties or fines, especially in an estate. It is therefore essential for anyone undertaking a landscaping project to familiarize themselves with their relevant local requirements and ensure they are adhering to them throughout the process. This will help protect not only the environment, but also those who work on the project. It ensures that everyone complies with applicable laws. Additionally, understanding how these regulations might influence design decisions early on in the planning stages of a project. This saves time and money further down the line.
Therefore, when embarking upon a landscape project it is crucial to research all relevant environmental regulations thoroughly. Plan accordingly so as to avoid potential consequences later.
How Long Does It Typically Take To Complete A Landscaping Project?
One of the most common questions asked when considering landscaping is how long it will take to complete a project. How long is a piece of string? Depending on the scope and complexity of the desired landscape, this timeframe can vary greatly. The size of the area being worked on, as well as any additional materials or resources needed for completion, can add to the overall length of time required for a successful outcome.
Furthermore, local regulations may impact total expected duration due to permit processing times which are necessary before work begins in some areas. Specialized labor such as irrigation specialists or masons may also be needed depending on what features are included in the design. These must be taken into account while estimating timeline expectations. Ultimately, consulting with an experienced professional should provide sufficient insight into estimated completion dates that factor in all relevant variables.
Conclusion
Landscaping services in Sandton can be a great way to enhance the beauty of any property. In order for the project to go smoothly, it is important to consider all factors. Including the best time for landscaping, any additional fees associated with the service. What type of maintenance will be required afterwards?Additionally, environmental regulations must be taken into account when engaging in landscaping activities. The length of completion times may vary depending on complexity but generally range from days up to weeks or months.
In conclusion, there are many decisions that need to be made prior to beginning a landscape project. Taking the necessary steps beforehand will ensure that everything goes according to plan. It is important to research local laws as well as factor in an appropriate timeline and budget before proceeding with landscaping services in Sandton. With careful consideration and planning, one can look forward to reaping the rewards of having a beautiful outdoor space that adds value and appeal to their home or business property.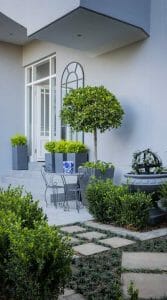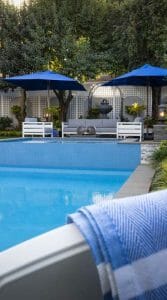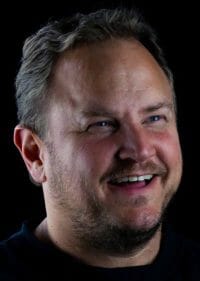 Looking for a professional landscaper in Sandton?
We can design and install your dream garden, including fire pits, entertainment areas, bomas and water features. You have come to the right place!
No middleman! Contact our Managing Director directly on the following
Are you looking for a stylish designer fire pit to enhance the landscaping of your outdoor space? Visit our FireBlades website to see our range of designer fire pits.