Looking for a water feature design and installation?
We have designed and installed hundreds over the years (see a few examples of these projects shown on this page). We would love the opportunity to work with you to design a feature that will add a soundtrack and beautiful design element to your garden!
Call or send us a message on 082 805 0910 for your water feature design and installation requirements.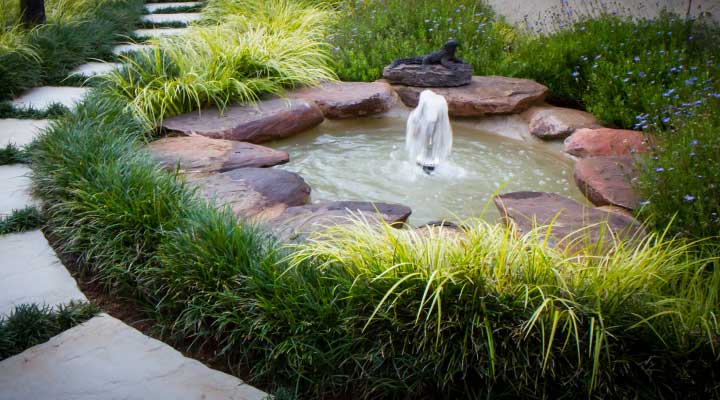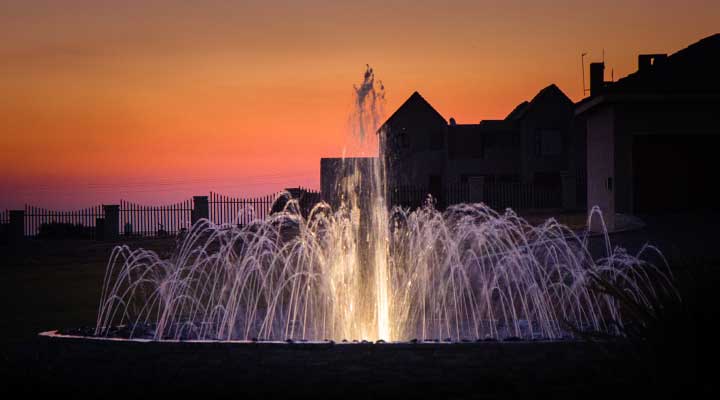 Adding a water feature to a garden
Adding a water feature to a garden can provide numerous benefits for homeowners. Here are some of the key advantages:
Increased property value:

A well-designed water feature adds significant value to a home. They are considered to be an attractive feature by many and make a garden or outdoor space more desirable.

Creating white noise:

The sound of running water is very soothing. It helps to create a peaceful and calming atmosphere. In other words, the sound of water helps block out other noises, such as traffic or neighbors. Consequently, they create a more relaxing environment in which to spend time.

Creating a focal point:

A water feature is a stunning focal point in a garden landscape. It draws the eye and adds interest to the overall design. Whether it's a simple fountain, a pond or a waterfall, they provide a stunning centerpiece that enhances the overall aesthetic of the garden.

Supporting biodiversity:

Water features support a range of wildlife, from birds and butterflies to frogs and fish. This helps create a more diverse and vibrant ecosystem in the garden. It is therefore also enjoyable to watch and interact with.

Enhancing air quality:

Water features help to improve air quality by adding moisture and humidity to the air. This is particularly beneficial in dry or arid climates, where humidity levels may be low.
In summary
Overall, adding a water feature to a garden is a a great way to improve the overall look and feel of the outdoor space. It also provides a range of practical benefits for homeowners and visitors.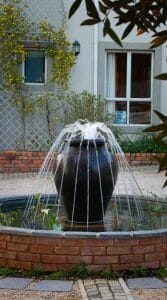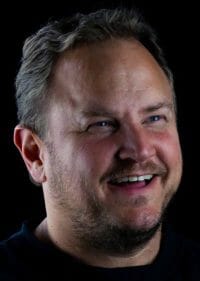 Looking for a professional landscaper?
We can design and install your dream garden, including fire pits, entertainment areas, bomas and water features. You have come to the right place!
No middleman! Contact our Managing Director directly on the following
Are you looking for a stylish designer fire pit to enhance the landscaping of your outdoor space? Visit our FireBlades website to see our range of designer fire pits.