,
Looking for a Fire Pit, Designer Outdoor Space or Boma area?
Over the years, we have designed and installed hundreds of these spaces (see a few examples of these projects shown on this page). We would therefore love the opportunity to work with you to design a feature area that will add enjoyment and value to your property as well as your lifestyle!
Call or send us a message on 082 805 0910 for your fire pit or designer outdoor space requirements.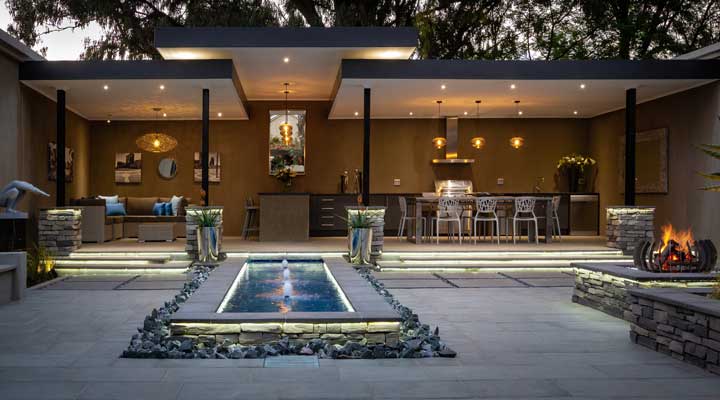 Adding a fire pit, outdoor kitchen, or entertainment space
With the correct planting, a garden can be truly beautiful. However, if you are not a keen gardener, you may need more than plants. In other words, you will find yourself being an observer rather than a participant when it comes to enjoying your garden.
A Designer Outdoor Space is an area in the garden that allows for interaction with the space. In addition, it draws you out of the house into the outdoors, allowing you to take in the surrounds, embracing nature and enjoying yourself. These spaces can be as simple as a small gravel area with a bench on which to relax. However, they can be far more complex, comprising fire pits, a boma fire, water features or even an outdoor kitchen!
These are the places in your garden where memories will be made. You will look forward to entertaining guests in them. They can be a place of solitude, a place to find inner peace. In addition, for each client the requirements are different and we therefore design each garden accordingly.
A fire pit, outdoor kitchen, or entertainment space provides numerous benefits.
Here are some of the key advantages:
Increased property value:

A well-designed outdoor living space adds significant value to a home. In other words, outdoor living spaces are highly desirable by many home buyers, and make a garden or outdoor space more attractive and functional.

Creating a focal point:

An outdoor living space is a stunning focal point in a garden landscape. In other words, it draws the eye and adds interest to the overall design of the space. For instance, whether it's a cozy fire pit, a fully-equipped outdoor kitchen, or a comfortable entertainment area, an outdoor living space provides a beautiful focal point. In other words, it enhances the overall aesthetic of the garden.

Improving quality of life and enjoyment of the garden:

Outdoor living spaces help homeowners to make the most of their garden. In addition, they provide a comfortable and enjoyable space to relax, entertain, and spend time with family and friends. In other words, these spaces also help extend the amount of time that homeowners spend outside. For example, by providing shelter from the elements and comfortable seating you will want to spend time outdoors.

Supporting healthy living:

Outdoor kitchens encourage homeowners to cook and eat more meals outside. Additionally, they support a healthy lifestyle. In other words, the addition of a fire pit or outdoor heater also makes it more comfortable to spend time outside in cooler weather. Similarly, they encourage homeowners to be more active and spend more time outdoors in their gardens.

Enhancing privacy:

An outdoor living space can be designed to provide privacy and seclusion. Above all, it is particularly appealing for homeowners who value their privacy. Similarly, this can be achieved through strategic placement of trees, shrubs, and other landscaping elements, as well as through the design of the living space itself.
Fire pits and designer outdoor spaces – in summary
Adding a fire pit, outdoor kitchen, or entertainment space to a garden is a great way to improve the overall functionality and enjoyment of the outdoor space. Above all, they also providing a range of practical benefits for homeowners.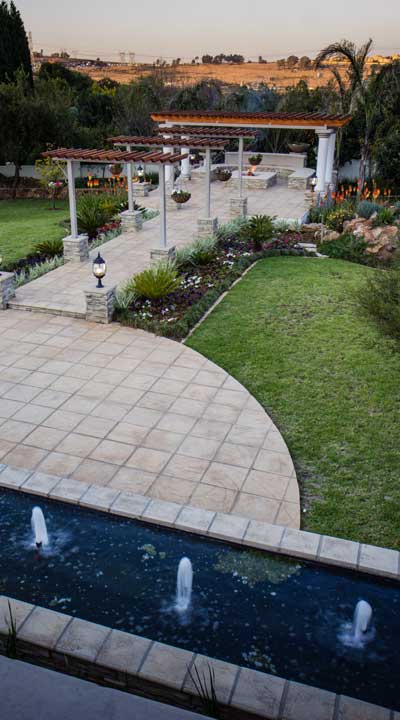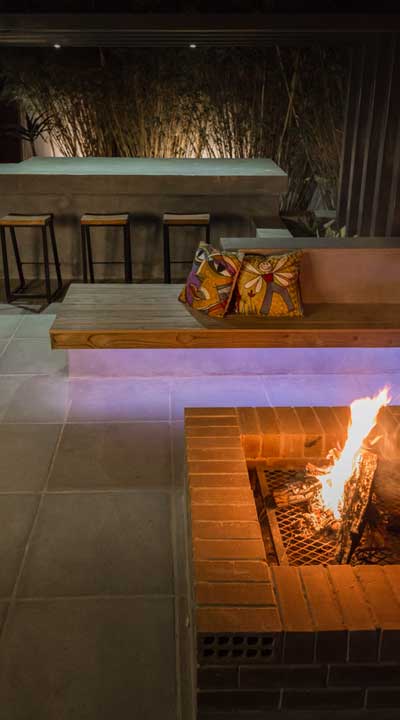 Are you looking for a stylish designer fire pit to enhance the landscaping of your outdoor space? Visit our FireBlades website to see our range of designer fire pits.